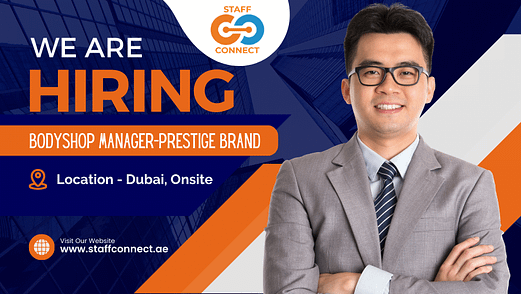 No. of Resource :- 1
Location :- Dubai, Onsite
NP :- Immediate ONLY
Budget :- 25-30k AED
Job description :-
      Qualification :-
Degree in Automobile or Mechanical Engineering or any technical related field.
 Requirements :-
Technical knowledge of paint and repairs
3-5 years' experience in Body and Paint section(Prestige brand)
Technical & Supervisory skills
Ability to write technical reports
Must have UAE experience with the Prestige brand
     Responsibilities :-
Ensure top quality work job by matching principals' repair standards. Enhancing Customer Satisfaction and diminish return jobs.
Ensure staff and workshop discipline for efficiency, quality and professionalism of job.
Establish clear communication with customer and staff to enhance job completion, quality and develop customer confidence.
Provide training, coaching and occasional on the job assistance to enhance staff capabilities
Customer centric approach and operationally proactive by nature will be highly needed for this role to ensure daily departmental tasks, routines and resources are available to deliver high quality services.
You must have strong communication skills, be a confident decision maker, have excellent leadership skills and be able to influence others.