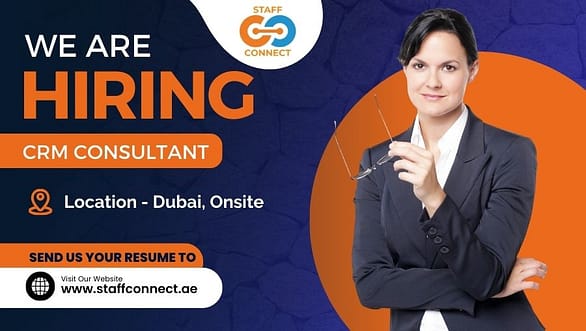 No Of Resource: 1
Location: Dubai, Onsite
NP:  Immediate Joiners ONLY
Purpose Of The Job:
The CRM Consultant role is dynamic and challenging by nature, serving a wide variety of users with different services ranging from business process analysis, to data mapping, marketing and communications, user training and support. The job holder will provide problem resolution and ongoing support to the company with respect to Microsoft Dynamics CRM system. Responsible for gathering and organizing business requirements, analyzing data, performing systems analysis, configuration & design activities, supporting application development, testing and delivery efforts. Responsible to lead any additional implementation requirements within the Group companies
Key Dimensions: 
The IT Job family is a Shared Service containing the leadership/management and technical roles to deliver a holistic IT service across the Group. The IT roles are involved in the following:
Leadership & Management

IT Infrastructure

Applications & Development (including ERP system)

Help Desk

IT Governance 
Job Accountabilities
Provide day to day system functional support to end users on MS Dynamics CRM.

Perform impact analysis on incoming service/support requests, specific to complexity &

estimate drivers. Develop and test new processes/system functionalities.

Writes functional & technical specifications for development purposes working with the users and the support vendor.

Assist SharePoint Developers and Epicor functional & technical analysts in integration areas.

Execute small to medium projects as requested.

Provide Training on MS Dynamics CRM to end users as required.

Maintain system/process/training documentation and ensure proper sign-offs.

Any other ad hoc administrative duty as requested by the Line Manager or

Management staff
Qualifications, Education, Experience & Knowledge
Qualifications & Education :
Bachelor's degree in IT or Business related discipline.

Microsoft Dynamics CRM 2016 & Dynamics 365 CRM
Customization and Configuration or later product version:
Experience 5 – 7 years in a similar position
Knowledge & Skill:
Minimum 7 years of hands-on experience with Microsoft Dynamics CRM 2013/2015/2016/365 functional area.

Some knowledge of configuring Microsoft Dynamics CRM  2016 and 365 gained in a functional/technical role.

At least one full cycle of MS Dynamics CRM implementation  experience; demonstrated ability to deliver and complete projects.

Ability to be both analytical and strategic with a good understanding of business processes, practices and procedures.

Full understanding of documentation standards, and able to create all standard project documentation.

Defines business requirements for technical solutions or alternatives. Can identify and help design customizations, workaround, or enhancements required to meet customer needs.

Understand CRM licensing levels and how they should be factored into a solution design.

Support the creation and execution of test cases and scripts.

Proficient in MS Office, Project and Visio.

Must be an excellent team player.

Security Administration (user, groups, menu, process, field).
Company Value- Excellence:
Competencies: 
Strategic Orientation- Understands the business plans and strategy in the short to medium term  Competency Level – 2

Results Orientation- Focus on delivering timely performance with energy and taking responsibility and accountability for quality outcomes Competency Level – 2

Commercial Orientation- Having a commercial & financial mindset Competency Level – 2

Client Focus- Anticipates needs and proactively communicates with clients Competency Level – 2
Company Value – Integrity:
Collaboration & Influencing – Leading from the front and communicating with clarity, conviction and enthusiasm. Competency Level – 2

Governance & Ethics Aligns team with organization's values and ethics Competency Level – 2
Company  Value- People Focus:
Team Leadership Encourages and facilitates cooperation within the organization and with customer groups; fosters commitment, team spirit, pride and trust  Competency Level – 2

Developing People:  Assists with formal development processes, ensuring that training, coaching and mentoring is provided to the team  Competency Level – 2

Self – Management: Manages strengths and limitations and maintains a balanced mindset Competency Level – 2

Teamwork : Encourages team contributions – takes actions to assist the team or group to work effectively. Competency Level – 2