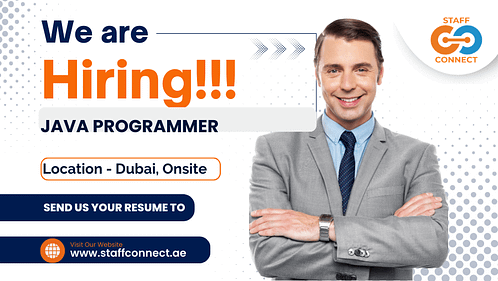 Location: – Dubai, Onsite
NP- Immediate
Email :- hr@staffconnect.ae
WhatsApp :- +971 529421270
Job description :-
Responsible for assisting the Team leads to Analyse the requirements, to do the Impact Analysis of the CR (change request), to find Gap Analysis between the existing and proposed solution. The resource should be able to write the specs and do the coding.
Computer System Java, Eclipse, Jasper Report, Dojo, Oracle 10g developer suite, PL/SQL.
The resource should be able to design, develop and test the software applications by converting projects requirements using Java, J2EE Technology, Oracle SQL Programming technologies
The resource should also be able to do peer code reviews and also assist in implementation.
Person to responsible for collecting information related to projects and deliver the assignments against the agreed baselines.
Principal Responsibilities :-
(List approx. 10 points of 'what' and 'why' tasks will be performed in this position. Duties should be presented in order of importance.)
1. Analyse the requirements, to do the Impact Analysis
2. Design & Develop Applications
3. Prepare project related technical documentation & CMMI documents
4. Gap analysis between the existing solution and proposed change
5. Unit Testing on delivered solution
6. Problem analysis and Bug fixes
7. Application UI design
8. Support Change & Releases Management
9. Job involve regular travel Within Free Zone / Dubai
10.Main Working Area – Inside Office only
Explain the Job Content (or) How the job is performed. State briefly.
The job holder will be required to monitor the working of multiple systems developed in Java J2EE, ORACLE Technology and also other systems development. The incumbent should monitor helpdesk calls and CR's raised and also executes these efficiently.
The job holder would be a link between the IT solutions and end users of different departments. Training & issues resolution of end users is an integral part of this job profile
He/she will also be required to follow health, safety, security and quality procedures of DP World in his work procedure.
Functional Relationships :-
Regular interaction with Internal / External Clients, Organization or Company (if any)
Position / Job Title / Department / Organization / Company Purpose Frequency (How often?)
3rd party service providers – Plans, prioritizes and communicate requirements for services and solutions- Regular basis Internal service providers (ITC)- Plans, prioritizes and communicate requirements for services and solutions Receive services and solutions. Acquire, assess, assign and manage resources.- Regular basis
All head office, regional and terminal business group Demand management Governance Delivery of services and solutions Communication of SQERT – Regular basis
Job Specification :-
Education / Qualifications / Professional Training (minimum qualifications required to perform the Job)
Essential: Bachelor's Degree in Computer Science or Management with 5+ years of experience in JAVA and J2EE technologies, Oracle SQL development.
Or Diploma in Computer Science or Management with 8+ years of experience in JAVA,J2EE technologies and Oracle database Programming.
Desirable SUN JAVA Certified professional, Oracle Certified Professional
Work Experience (No: of Years and areas of expertise required for the Job)
Proficiency in Java, J2EE, Struts, Spring, and Java Script frameworks like jQuery, Bootstrap, ORM frameworks like IBatis and Hibernate, Jasper Reports. 1-2 projects Implementation experience in above technologies preferred.
UI Designing
J Boss FUSE for Integration
Project Management methodology applied to software development projects
SQERT based project Analysis
Experience in OOPS
Oracle, PL/SQL development
Technical Competencies (technical skills required to perform the role)
Application Programming – The ability to code and test modules that meet the design specifications in JAVA and J2EE Technologies. ORACLE SQL experience is a must.
Business Recovery – The ability to develop, document and test plans for disaster recovery and business continuity
Change Management Analysis and Processes – The ability to coordinate changes, recognize potential problems and understand impacts before changes are implemented
Configuring & Optimizing the System – The ability to ensure optimum system operation through the use of system rules, control parameters or commands
RDBMS Systems – The ability to utilize Oracle 11g packages and code in PL/SQL.
Behavioural Competencies
Competency Type:
CHIEVEMENT ORIENTATION-Reflects the ability to see the importance of results and know how to get them.
ADAPTABILITY- Reflects the ability to remain effective during periods of change, such as when facing new responsibilities, dealing with new people or in a new structure.
ANALYTICAL THINKING – Reflects the ability to absorb, analyze and draw conclusions from data.
ATTENTION TO DETAIL- Reflects the ability to complete a task taking account of all influences no matter how small.
CREATIVITY-Reflects the ability to innovate in a business environment and to identify radical alternatives to established practice.
CUSTOMER SERVICE-Reflects the ability to manage customer relationships, developing a professional relationship in order to identify needs and deliver a quality service.
DECISIVENESS- Reflects the ability to make timely decisions, take appropriate action and commit to the chosen course.
ENERGY- Reflects the ability to bring drive, stamina and hard work to a task.