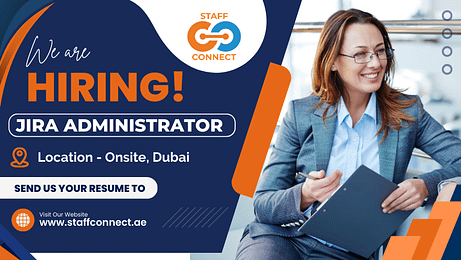 No of Resource: 1
Location: – Onsite, Dubai
NP- Immediate/2 weeks.
Email :- hr@staffconnect.ae
WhatsApp :- +971 529421270
Job description :-
Immediate opening for Atlassian/Jira administrator. This role involves a combination of technical expertise, communication skills, and organizational abilities to ensure the smooth operation of Jira for teams and projects within the organization. Within this role, you will directly affect process implementation, integrate Atlassian products with other internal applications, and drive efficiencies for our organization. You will be expected to engage with other team members, providing insight, guidance, and thought leadership.
Job Responsibilities :-
Provide quality system admin support for Jira and associated plug-ins, integrations including metrics reporting.
Manage Jira projects, users, permissions, Jira screen schemes, notification schemes, custom fields, field configurations, workflows, workflow functions.
Manage global and project customization for large size Atlassian tools instance.
Install and configure custom Jira add-ons to provide enhanced capabilities (e.g., Script runner, Advanced Roadmaps, Great gadgets, Dynamic Forms. etc.)
Establish standards, best practices, and governance for managing Jira.
Good understanding of the implementation of the Scaled Agile (SAFe) framework.
Develop and maintain technical and user-facing documentation and standard operating procedures and guides.
Provide technical support for user management, creating custom dashboards, projects, issues, queries, workflows, and reports.
Write custom JQL (Jira Query Language) to construct custom dashboards, advanced filter, and reports, using various filter types in JIRA.
Experience in migrating Jira from one instance into another.
Work with Atlassian support for the issues and resolving them in a timely manner without any interruption to the users.
Partner with stakeholders to define requirements for advanced customizations, automations, and workflows
Maintain a healthy application environment by periodically reviewing and modifying configurations, permissions, workflows, dashboards, integrations, and logs.
Provide recommendations to users and management on best practices and standardization in implementing projects and processes within Jira and the Atlassian suite.
Conduct training for employees and new hires on JIRA and also briefing the team/s on new functionalities.
Education, Skills, and Experience :-
Bachelor's degree in Computer Science/Engineering or related field, or equivalent professional experience
4+ years of relevant experience
Working knowledge of Atlassian tools such as Jira and Atlassian plug-in such as Scriptrunner for Jira, Automation for Jira, Zephyr Scale or Zephyr Squad.
Working knowledge and coding experience using Python/JAVA and REST API
Process governance experience or strong automation workflow knowledge.
Experience with Agile methodology lifecycle.
Personal Characteristics Include :-
You have a passion for learning, continuous improvement, sharing and working in a team environment
You are able to work as part of a self-directed and self-managed team
You hold a point of view and aren't afraid of challenging assumptions, but are humble enough to recognize and adopt the views of others
You have excellent troubleshooting, problem-solving, time management, and organizational skills
You have zero-tolerance for avoiding best practices