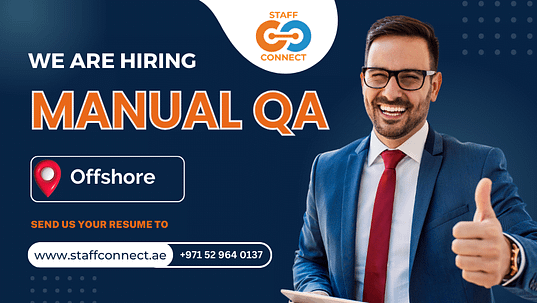 No of Resource: 1
Location: – Offshore
NP- Immediate
Email :- hr@staffconnect.ae
WhatsApp :- +971 529421270
Job description :-
Immediate opening for an innovative, team-oriented Software Test Engineer. The ideal candidate will have Mobile applications testing experience, web applications testing experience, and experience with industry standard QA tools. This Software Test Engineer should have experience in automating tests. The Software Test Engineer will interact with other stakeholders as needed, but many activities will require independent thought and decision making.
The Software Test Engineer is responsible for delivering quality, well-tested software into Production. In this role, you will participate in all stages of the product and development lifecycle and play a major role in influencing the product and technical direction taken by the team. You will organize the overall quality practices, interpret test results, drive test execution, and build end-to-end manual and automated tests. The successful candidate must have proven technical skills and demonstrated leadership and teamwork skills.
Responsibilities :-
Analyses and understands requirements, devises a test strategy to adequately cover the requirements, develops high-level test scenarios that implement the strategy, elaborates scenarios into detailed test cases.
Reviews test artefacts with Business and Development team members and edits accordingly
Owns the QA role throughout all projects by: gathering requirements, writing and executing tests (manual and automatic), monitoring test progress, reporting status, logging defects, tracking and testing defect fixes, retesting and delivering
Works with user and partner teams to develop automated test scripts and extend the automation infrastructure
Collaborates with the business and development teams to produce requirements that are well-documented and clear
Maintains subject matter expertise for the systems under test and use that expertise to create, maintain and extend the test case library
Participates in team process improvement to make sure everyone understands development lifecycle.
Experience in Firebase for events and app monitoring
Education, Skills and Experience
Bachelor degree in Computer Science/Engineering or related field, or equivalent professional experience
4+ years of software testing and QA experience
Extensive experience in functional test plan and design, functional and non-functional requirements review, and black box test case creation and execution
Strong experience with exploratory testing and system regression testing
Hands-on experience in writing database queries for back-end testing and data verification
Proficiency with API testing
Proficient technical skills, and a capability to team up with software engineers to plan and design system integration tests
Experience with test automation tools (such as Selenium, UFT, Appium etc.) will be preferable.
Experience in Browser stack, Perfecto Mobile would be preferable.
Personal Characteristics Include :-
You are passionate about creating world-class software experiences for our customers and will work hard to achieve this.
You have a passion for learning, continuous improvement, sharing and working in a team environment
You are able to work as part of a self-directed and self-managed team
You hold a point of view and aren't afraid of challenging assumptions, but are humble enough to recognize and adopt the views of others
You have excellent troubleshooting, problem-solving, time management, and organizational skills
You have zero-tolerance for avoiding best practices (e.g., peer reviews, Continuous Integration and Continuous Delivery)