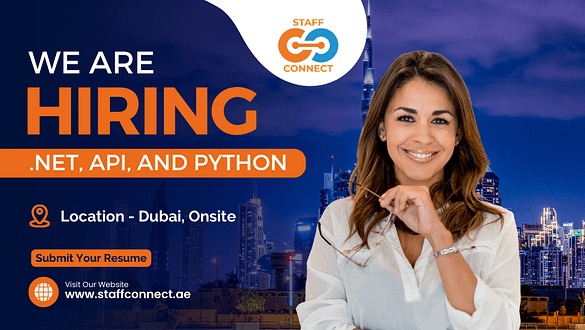 No. of Resource :- 1
Location :-Dubai, Onsite
NP :- Immediate (MAXIMUM 30 DAYS NOT MORE THAN THAT, CV's shall not be accepted)
Job description :-
We are looking for a versatile Full Stack Developer with expertise in .NET development, API design and development, and Python programming. In this role, you will play a pivotal role in creating, enhancing, and maintaining software solutions that encompass both the .NET framework and Python.
You will collaborate closely with cross-functional teams to meet business requirements and ensure efficient, secure data transfer, integration, and enhanced
functionality of our software solutions.
Responsibilities :-
.NET Development (C# and .NET Framework):-

Develop, test, and maintain software applications using the .NET framework.

Collaborate with business analysts and project managers to understand software requirements and translate them into technical specifications.

Design, code, test, debug, and document software components following best practices and coding standards.

Participate in the full software development lifecycle, including planning, design, development, testing, and deployment.

Work with the team to troubleshoot and resolve software defects and issues.

Ensure the security and performance of applications by implementing necessary measures.

Stay up to date with emerging technologies and industry trends to make recommendations for improvements in the development process.

API Development :-
 Design and develop APIs to facilitate data exchange and integration between different applications and systems.
Collaborate with cross-functional teams, including software developers, architects, and product managers, to understand API requirements and ensure alignment with business goals.
Create clear and comprehensive API documentation, including usage guidelines, endpoints, authentication methods, and error handling.
Implement best practices for API design, including versioning, security, and scalability.
Ensure the performance, reliability, and scalability of APIs by optimizing code and monitoring their usage.
Conduct testing and debugging to identify and resolve issues, ensuring the APIs meet specified requirements.
Python Development :-
Leverage Python for various development tasks, including data processing, automation, and scripting
Collaborate with data analysts and data scientists to manage and analyze data effectively using Python's data libraries.
Automate repetitive tasks and processes using Python RPA frameworks to increase operational efficiency and reduce manual effort.
Requirements :-
For .NET and API Development :-
Bachelor's degree in computer science, Information Technology, or a related field.
5+ years of experience in .NET development.
Proven experience as a .NET Developer with strong proficiency in C# and the .NET framework.
Familiarity with database systems such as SQL Server, MySQL, or Oracle.
Experience with front-end technologies (HTML, CSS, JavaScript, and frameworks like Angular or React) is a plus.
Understanding of software development methodologies and principles.
Ability to work in a fast-paced environment and meet project deadlines.
Strong problem-solving skills and excellent communication and collaboration skills.
 Knowledge of cloud platforms like AWS, Azure, or Google Cloud is a plus.
For Python Development :-
Proficiency in Python programming.
Experience with data processing libraries (e.g., pandas, NumPy) for efficient data management and analysis.
Familiarity with Python RPA frameworks (e.g., UiPath, Automation Anywhere) for process automation.