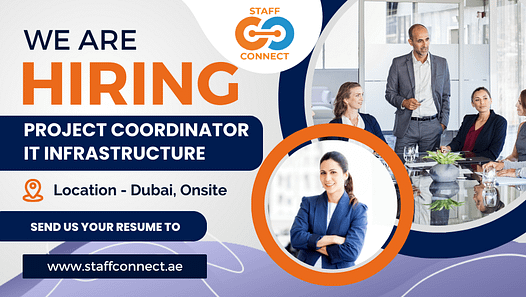 No of Resource:- 1
Location :- Dubai, Onsite
NP :-Immediate
Email :- hr@staffconnect.ae
WhatsApp :- +971 529421270
Job description :-
Collaborate with project managers to define project scope, goals, and deliverables.
Develop and maintain comprehensive project plans, including tasks, timelines, and resources.
Coordinate project and ensure that project teams and vendors are aware of their responsibilities.
Monitor project progress, track tasks, and identify and address any potential issues or delays.
Act as a central point of contact for project team members and stakeholders.
Maintain accurate project documentation, including meeting minutes, reports, and project updates.
Identify risks and assist in developing mitigation strategies to ensure project success.
Schedule and facilitate project meetings, prepare agendas, and document meeting outcomes.
Engage with stakeholders to gather requirements, provide updates, and manage expectations.
Prepare regular status reports and presentations for project managers and leadership.
Coordinate and manage projects handover to operation team.
Assist to build policy and procedures for smooth operation and projects.
Supervise and guide operation team for efficient ISP billing and reduce OPEX cost.
Key Responsibilities :-
Oracle Fusion developer who can support full cycle in Oracle Fusion Cloud (Financials – GL/AP/AR/FA/Cash Management; Procurement Purchasing/Sourcing/ Supplier Portal/ Self-Service; Project Costing modules)
Collaborate with cross functional teams to understand business requirements and translate them into the technical specifications and system designs.
Detailed knowledge of the table structure of Oracle Cloud ERP (Financials, Procurement, SCM).
Proficient in building Oracle Reports in multiple formats using reporting tools: OTBI, BI Publisher, Smart View, and Financial Reporting Studio
Guide the integration and development of both packaged and in-house applications.
The resource would be involved in reviewing changes associated with Oracle releases.
Maintain user stories in Jira and ServiceNow
Experience in integration methods (File-Based Data Import, Oracle APIs, ADFDI, APEX, VBCS and OIC)
Manage and escalate Oracle Service Requests
Qualifications :-
Bachelor's degree in Computers or Information Technology.
5-10- years of experience in Oracle Cloud, with experience at least 2 full Life Cycle implementations of the Oracle Fusion (specifically PROC, SCM and Finance).
Strong proven experience of developing technical components – BI Reports, interface components using PL/SQL, OIC, APEX and VBCS.
Strong stakeholders' management experience and good communication skills.
Possess strong analytical skills, is highly meticulous with good attention to detail.
Ability to prioritize time and tasks.
Self-motivated and able to work independently, as well as contribute effectively in a team environment.
Ability to adapt to changing priorities and handle multiple tasks simultaneously.
Produce and deliver documentation for design, training, and application administration.