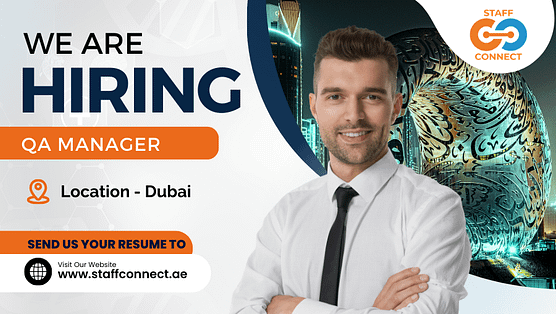 Location :-Dubai
Position Type :- Full-time
No. Of resource :- 1
NP :- Immediate (MAXIMUM 30 DAYS NOT MORE THAN THAT, CV's shall not be accepted)
Job description :-
We are seeking an experienced Quality Assurance (QA) Manager to lead our QA team and ensure the quality of our software applications, with a specific focus on Oracle Fusion ERP, Salesforce, and Mobile app development. The ideal candidate will have a strong background in QA methodologies and a proven track record in managing QA processes for complex, enterprise-level systems.
Responsibilities :-
          Team Leadership :-
Manage and lead a team of QA engineers, providing guidance, mentoring, and support.
Set clear performance expectations, conduct regular performance reviews, and ensure the team's professional growth.
Quality Assurance Strategy:
Develop and implement an overall QA strategy for Oracle Fusion ERP, Salesforce, and Mobile app development projects.
Define QA standards, processes, and best practices in alignment with industry standards.
Test Planning and Execution :-
Create comprehensive test plans and test cases for different applications, considering the unique requirements of Oracle Fusion ERP, Salesforce, and Mobile app development.
Oversee the execution of test cases, ensuring thorough coverage and adherence to project timelines.
Automation :-
Implement test automation strategies to streamline testing efforts and improve efficiency.
Select and maintain automation tools and frameworks suitable for different types of testing.
Bug Tracking and Reporting :-
Establish efficient bug tracking and reporting mechanisms.
Monitor and manage defect life cycles, ensuring timely resolution.
Collaboration :-
Collaborate closely with development and product management teams to understand requirements and provide early feedback on potential quality issues.
Performance Testing :-
Develop and execute performance testing strategies to ensure the scalability and reliability of the systems.
Compliance and Security :-
Ensure that the software complies with relevant industry standards and regulations.
Oversee security testing to identify vulnerabilities and ensure data protection.
Continuous Improvement :-
Continuously identify areas for process improvement and implement best practices.
Stay up to date with emerging QA and testing technologies and methodologies.
Requirements :-
Bachelor's degree in Computer Science or a related field. Master's degree is a plus.
Proven experience as a QA Manager in the IT industry.
Strong knowledge of quality assurance methodologies, tools, and processes.
Experience with Oracle Fusion ERP, Salesforce, and Mobile app development is highly desirable.
Proficiency in test automation tools and frameworks.
Excellent leadership and communication skills.
Strong problem-solving and analytical abilities.
Knowledge of compliance and security standards.
Experience with performance testing is a plus.
Relevant certifications such as:
ISTQB Certified Tester
Certified Scrum Master (CSM)Certified Agile Tester (CAT)
Certified Software Test Professional (CSTP)
Certified Test Manager (CTM) are preferred.