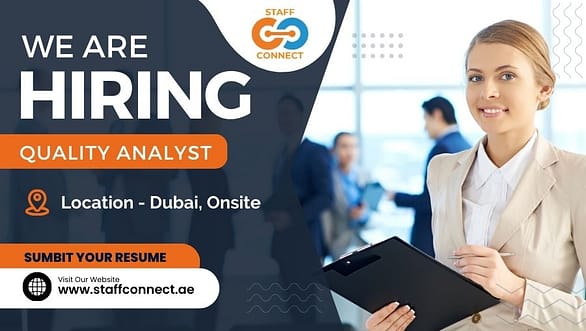 Location: – Dubai, Onsite
NP-  Immediate
No. of resources- 1
ROLE DESCRIPTION
As a QA Engineer, he/she will play a crucial role in ensuring the quality and reliability of our platform by developing and executing comprehensive testing strategies. You will work closely with cross-functional teams, including developers, designers, and product managers, to identify and address software issues and improve the overall user experience.
KEY RESPONSIBILITIES
Test Planning: Collaborate with the development team to understand project requirements and develop comprehensive test plans, test cases, and test scripts.

Test Execution: Conduct functional, integration, regression, and performance testing to identify software defects and ensure the platform meets quality standards.

Defect Management: Document and track software defects using bug-tracking systems and work closely with the development team to resolve issues on time.

Continuous Improvement: Identify areas for process improvement and contribute to enhancing testing methodologies, tools, and frameworks.

Collaboration: Collaborate with cross-functional teams to ensure alignment on project goals, resolve issues, and provide feedback to improve the overall user experience.

Documentation: Create and maintain test documentation, including test plans, cases, and reports.

Strong knowledge of APIs and testing User Interfaces in the Web & Mobile Application space is a must.

Create user manuals and conduct training sessions.
KEY BEHAVIORS & PERSONAL ATTRIBUTES
Strong knowledge of Scrum and Agile methodologies is a must.

Able to work through complex requirements and make quality decisions to drive forward.

Strong analytical, self-motivated, able to work within a team at a fast pace.

Excellent oral and written communication skills in English.

Strong sense of ownership.

Strong written and verbal communication skills with the ability to present complex technical information in a clear and concise manner to a variety of audiences.

Proven success in contributing to a team-oriented environment.

Proven ability to work creatively and analytically in a problem-solving environment.

Ability to work well with others, delegate and prioritize tasks.
QUALIFICATIONS & EXPERIENCE
Bachelor's degree in computer science, Engineering, or a related field.

6+ years of proven experience as a QA Engineer or similar role, in Mobile application or web application development environment, preferably managed community management mobile apps or web portals.

Strong understanding of software development life cycle (SDLC) and testing methodologies.

Excellent analytical and problem-solving skills, with attention to detail.

Strong communication and collaboration skills to work effectively within a cross-functional team.

Knowledge of real estate industry and community management domain is a plus