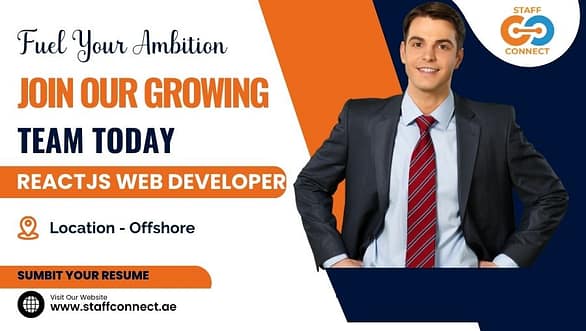 Location: – Offshore
NP-  Immediate
No. Of Resources – 1 
ROLE DESCRIPTION
Candidates should have a strong background in front-end development, particularly in React.js, and a passion for creating efficient, scalable, and user-friendly web applications. As a React.js developer, you will collaborate with our team of designers and developers to translate designs into high-quality code.
KEY RESPONSIBILITIES
Develop user interfaces using React.js and other modern front-end technologies.

Build reusable components and front-end libraries for future use.

Optimize components for maximum performance across different devices and browsers.

Collaborate with designers to implement UI/UX designs.

Work closely with back-end developers to integrate front-end components with server-side logic.

Conduct code reviews, testing, and debugging to ensure high-quality development.

Stay up to date with front-end technologies and industry best practices.
KEY SKILLS / EXPERIENCE
6+ years of professional experience working with React framework building web applications. 

Proficiency in React.js and its core principles.

Strong proficiency in JavaScript, including DOM manipulation and the JavaScript object model.

Experience with popular React.js workflows (such as Redux, Flux, or Context API).

Familiarity with RESTful APIs and GraphQL.

Knowledge of modern front-end build pipelines and tools (e.g., Webpack, Babel).

Understanding of version control systems (e.g., Git).

Solid understanding of responsive design principles.

Excellent problem-solving skills and attention to detail.

Good communication and collaboration abilities within a team environment.

Bachelor's degree in computer science, Engineering, or related field.

Previous experience in a similar role or with other front-end frameworks.

Experience with back-end development or full-stack development is a plus.

Contributions to open-source projects or a strong portfolio of relevant work.