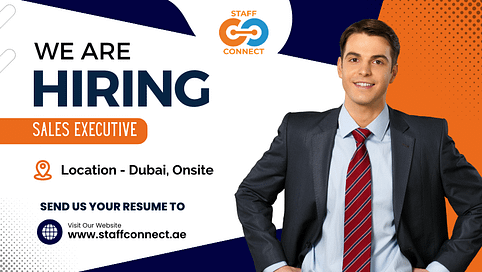 No. of Resource :- 1
Location :- Dubai, Onsite
NP :- Immediate
Budget:- Salary is negotiable depends on what their experience is and their sales volume.
Job description :-
Main Duties and Responsibilities :-
Contact potential or existing customers to inform them about a product or service
Answer questions about products or the company
Ask questions to understand customer requirements and close sales.
Enter and update customer information in the database
Take and process orders in an accurate manner
Handle customer complains in a professional manner and provide necessary solutions.
Go the "extra mile" to meet sales quota and facilitate future sales
Setting up personal meetings with potential clients and listening to their requirements and concerns
Keeping up to date on all products and informing customers of new products.
Skills :-
Proven experience as tele sales representative or other corporate sales/customer service role
Proven track record of successfully meeting sales quota preferably over the phone
Good knowledge in using Microsoft Excel and telephone systems
Ability to learn about products and services and describe/explain them to prospects
Excellent knowledge of English
Excellent communication and interpersonal skills
Cool-tempered and able to handle rejection
Outstanding negotiation skills with the ability to resolve issues and address complaints
Key Responsibilities :-
Research and generate new business opportunities and potential clients.
Evaluate and manage sales options, business pipeline, forecast, and market networks
Achieve revenue targets and deliver all key performance metrics
Maintain B2B sales and strategize successful sales solutions
Building relationships with potential clients to learn about their needs and interests so that they can be addressed in future sales pitches or proposals
Maintain client relations and develop potential clients by coordinating product and sales presentations.