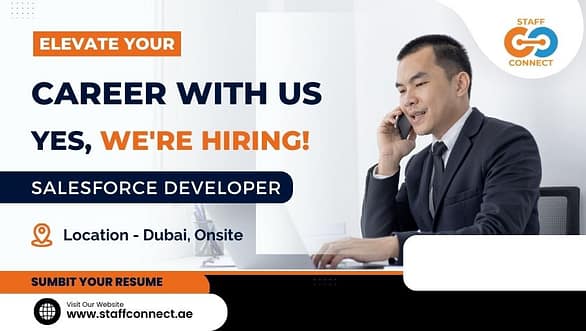 Location: – Dubai, Onsite
NP-  Immediate
No. Of resource = 1

ROLE DESCRIPTION
Candidates should have a strong background in Salesforce development, customization, and integration. As a Salesforce developer, you will work closely with stakeholders to design, develop, test, and implement solutions that meet business requirements using the Salesforce platform.
KEY RESPONSIBILITIES
Customize and configure Salesforce applications to align with business needs.

Develop and maintain custom Salesforce solutions, including Apex, Visualforce, Lightning components, and integrations.

Collaborate with stakeholders to gather requirements and translate them into technical solutions on the Salesforce platform.

Design and implement Salesforce workflows, validation rules, and process builder flows.

Develop and execute test plans to ensure the quality and functionality of Salesforce solutions.

Perform data migration and data quality management tasks within Salesforce.

Stay updated with Salesforce releases and new features, providing recommendations for implementation.
KEY SKILLS / EXPERIENCE
Bachelor's degree in computer science, Engineering, or related field.

6+ years of experience in the role of a Salesforce developer.

Knowledge of other CRM platforms or additional programming languages is beneficial.

Participation in Salesforce community forums, groups, or events.

Strong experience in Salesforce development and customization.

Proficiency in Sales Cloud, Service Cloud, Apex Classes/Triggers, Visualforce Pages, Salesforce Workflow, SOQL, SOSL and Force.com API.

Develop solutions, primarily in Salesforce.com using either Lightning Component Development or Classic UI 

Configure and schedule periodic data synchronization (using 3rd party tools like DBSync or DBAmp) with an enterprise data store. 

Familiarity with Salesforce integration techniques (REST, SOAP APIs, etc.).

Understanding of Salesforce security models and best practices.

Experience in data migration and management within Salesforce.

Ability to gather and analyze business requirements and translate them into technical solutions.

Excellent problem-solving and troubleshooting skills.

Salesforce certifications (such as Salesforce Certified Platform Developer) are a plus.

Good communication and collaboration skills to work effectively within a team.